---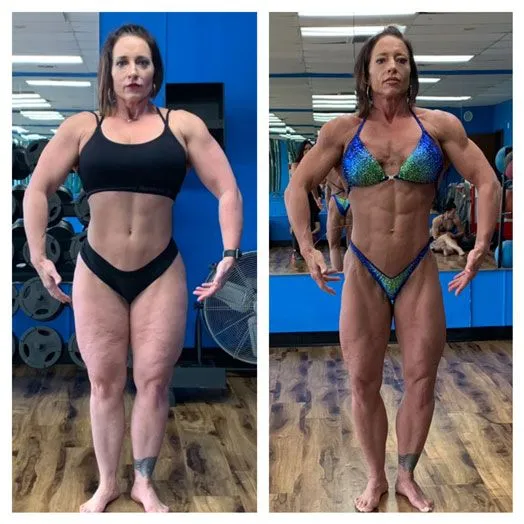 "I can not thank Dr. Michelle Sanor and her staff at Elite Smiles OKC enough for how amazing their services and customer service is. Four years ago, I started to go to Dr. Sanor for strictly dental work. As the years have gone by, she has added so many services for her cliental. That I started to do a little of everything along the way Botox, Kysse Lip filler, ultrasonic cavitation, cupping, forma facial and Morpheus 8. I compete in NPC (National Physique Committee) Physique Division Bodybuilding, and I am just not as young as some of the other competitors and my skin had lost some elasticity over the years, the Morpheaus 8 and ultrasonic cavitation did wonders on my glute/hamstring area. I called Dr. Sanor and discussed in office what the best options where---her knowledge base of all the machines and services is unmatched. She is like we will do this, and this will help that etc. etc. Went above and beyond when I was a bit skeptical but as each treatment went by, I saw more and more improvement The best thing about Dr. Sanor is she wants it to be perfect and wants each client happy. She delivers that every time along with all of her staff." -Misty McAuliff
---
Body Contouring Equipment
Body Cavitation RF System
How does this Multifunctional System Work?
Radiofrequency
Radiofrequency therapy uses currents similar to the ones found naturally in our body's electrical circuits to cause tissues to contract, which in turn safely tighten skin and increase its contour. Because of the ability of radiofrequency to reach the dermal layer of the skin, the facial skin is made firmer while existing collagen fibers are strengthened and the production of new collagen proteins are stimulated. This is impactful because aging degrades collagen proteins found naturally in our skin, and regenerating collagen production is the key ingredient to tightening and regaining youthfulness in mature skin. This non-invasive treatment includes absolutely no downtime, pain, or discomfort, and works wonders at reducing cellulite all over the body and erasing the signs of aging that have accumulated over the years.
Benefits of Radiofrequency for Body:
Decreases cellulite and tightens skin
Warms the dermis to make subsequent beauty treatments (like cavitation) more effective
Increases skin elasticity and tightness
Can be used on the arms, stomach, legs, and more
Supports healthy collagen production
Non-invasive, safe, and requires no downtime
Features cumulative effects with further treatments
Vacuum Radiofrequency
Vacuum therapy massages the skin to increase blood flow and lymphatic drainage, simultaneously supporting healthy skin and circulation. Collagen and elastin, two proteins essential for keeping the skin tight, firm, and glowing with youth, production is also supported via this treatment. Vacuum therapy has been praised as a non-invasive treatment that can reverse the appearance of your skin's age by 10 years. On this function, two electrodes lie on the rim of the vacuum handpiece. By working in conjunction, these two technologies create even more dramatic tightening and overall.
Benefits of Vacuum Radiofrequency:
Improves circulation of blood and lymphatic drainage
Reduces the appearance of cellulite
Increases metabolism
Burns fat at a faster rate
Promotes positive mood
Improves overall body profile
Tones and smooths skin
Ultrasonic Cavitation
The ultrasonic cavitation handpiece allows for the disruption of cellular membranes in adipocytes, or fat cells. It promotes body contouring, slimming, and weight loss. Here's how it works: the high pressure on the adipocytes caused by intense ultrasound waves forces those cells to collapse and their fatty contents to leak out into the spaces between cells. Since the number of fat cells in an individual never changes throughout their life (those existing cells simply grow in size), these fatty contents must then be excreted so they are not reabsorbed. With the help of a professional to trigger lymphatic drainage, the lymphatic system excretes these wastes through natural bodily processes. Esbelta includes a vacuum radiofrequency handpiece that does an excellent job at stimulating lymph flow after cavitation, so there is no need to purchase separate equipment for this. Cavitation may be performed 1-2 times a week for a minimum of 4 treatments.
With cavitation, a significant number of fat cells can be destroyed at once, so the treatment is highly effective and its results are visible after just one session. Patients can immediately see a reduction in the size of fatty areas, such as the thighs or stomach, and will notice even greater cumulative effects as they return for more cavitation treatments over the following weeks.
Benefits of Ultrasound Cavitation:
Bursts bulks of fat cells instantly
Leaves surrounding tissues completely unharmed
100% safe and non-invasive
Decreases fat content
No downtime
Can be used on many areas of the body, including arms, stomach, and thighs
Causes no discomfort or pain to patients
Creates immediately visible effects to encourage more treatments
Slims and tones areas with excess fat
Red LED Light Therapy
Esbelta includes red LED light therapy within all its handpieces. This is a miraculous treatment that allows for treatments with cavitation and LED light therapy simultaneously, which enhances the efficacy of the treatment by producing collagen to tighten the skin while extra fat is burned. The combination of Radiofrequency and Red LED light also saves you money, time, and effort, while making clients look that much better.
LED Light has different wavelengths that represent different colors of the visible spectrum. Each color has its own unique healing properties. One of the most effective wavelength ranges fall under that of Red light, which improves blood circulation, stimulates energy production within body cells, decreases inflammation, and gives a younger look and feel to the skin.
Benefits of Red LED Light:
Increases energy production in cells
Encourages production of elastin, collagen, and fibroblasts
Lifts and tightens skin in conjunction with radiofrequency
Softens lines and wrinkles in all areas of the face (forehead, around eyes, around the mouth)
Alleviates acne by reducing inflammation
Speeds up any healing processes in the skin
Increases nutrient supply in the area
Supports hydration in the skin, relieving dry skin
Reduces age spots and sun damage by stimulating cellular activity skin improval results.
---
Snella Body Contouring Lipolaser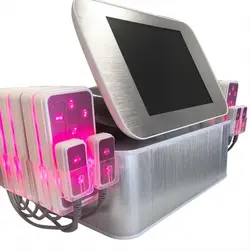 Snella LipoLaser Body Contouring System is considered to be one of the safest body shaping procedures available today, as it stimulates the natural release of excess fat in the body without destroying or structurally altering adipose tissue and other nearby organs.
This unique technique performs procedures for fat removal, body shaping, and cellulite, 100% non-invasively. This is based on the application of laser energy safely (and painlessly) at very precise wavelengths and strengths, targeting areas like the abdomen, waist, thighs, hips, arms, neck, and face.
How Does it Work?
Snella Lipo Laser Body Contouring System stimulates adipose cells to release much of their cellular content (water, fatty acids, and glycerol) into the interstitial space so that it is subsequently drained and naturally metabolized by the body. This is how the fat cells shrink, which is visibly seen as a loss in centimeters on the treated areas, slimming patients effectively.
What is the difference between Lipolaser and Cavitation?
While cavitation pops fat cells and is highly recommended for people with visceral fat, (something difficult to eliminate in patients who undergo liposuction), lipolaser is ann incredible complement to liposuction.
Snella Lipo Laser, however, is deemed healthier because it gently melts adipose cells below and within the skin. It is often the procedure of choice for most people who are aiming to reduce circumference in various areas of their bodies.
The advantages of lipo-laser are endless, especially for those people who want to improve their health and their bodies by eliminating a great amount of fat content that has accumulated inside their cells!
---
Fit Moderna EMS and Vacuum Cupping Therapy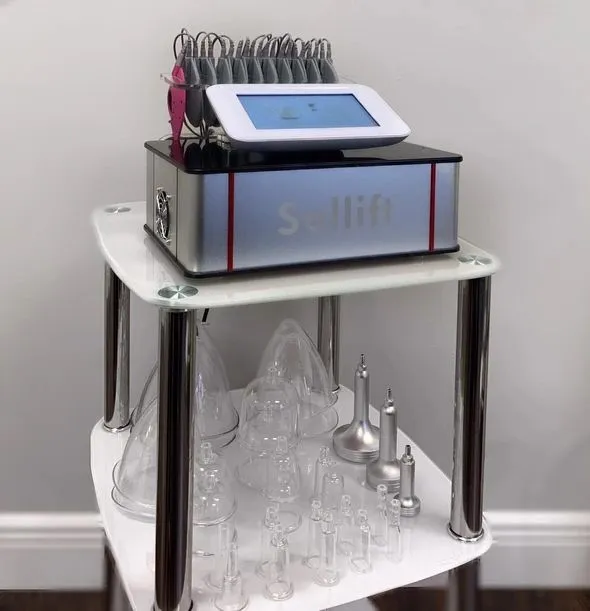 Electrical Muscle Stimulation
The Fit Moderna EMS + Cupping is an advanced equipment that tones, lifts, and refines muscles for a slimmer and a more firm look. It contracts and relaxes muscles in intervals, which tones muscles to a threshold that will not cause undesired muscle mass gain. In addition, it stimulates collagen and elastin production, which are structural proteins imperative for healthy skin.
EMS sends electrical signals through the electrode pads to different areas of the body, and muscles in those areas with pads are therefore contracted. This unit is a powerful and risk-free device to stimulate the muscles.
EMS is a wonderful tool for weight loss, especially when used in conjunction with a healthy diet and regular exercise. This procedure non-invasively increases heart rate, skin temperature, and metabolic rate, which helps the body use more energy to remove fat. By triggering the body's natural fat burning and muscle toning processes, weight loss is a very achievable result with electrical muscle stimulation. Enhancing muscle strength and endurance while aiding in the breakdown of fat, electrical muscle stimulation is a next-generation technology that has been loved in every field- from medicine to beauty
Cupping Therapy
Cupping therapy is a very popular treatment today but it is not a new one. The practice of Ancient Chinese cupping therapy dates back to over 5,000 years ago and was used in many Eastern European countries to promote natural healing as well. Cupping stimulates blood circulation in any area of concern, unblocking energy channels and breaking down fat cells as well. Medical professionals use it for many purposes, such as to relieve pain and inflammation, and estheticians mostly use to provide deep-tissue massages. In addition, it is used for lymphatic drainage after slimming treatments. In recent years cupping, has been growing in popularity, especially among celebrities. It is commonly used to:
Reduce cellulite
Enhance buttocks
Flush excess water out of the body
Relax tight muscles
Cupping helps restore the energy that the body needs to shift fat cells. This traditional Chinese medicine treatment is designed to promote faster weight loss as long as you maintain a healthy diet and regular exercise. It is also an excellent method for encouraging the lymphatic system to remove toxins and excess water from the body.
Cupping therapy promotes weight loss and full-body toning by stimulating acupoints and running them along lymphatic lines. Three different size massage rollers are used for body contouring. The suction and negative pressure provided by cupping can loosen muscles, encourage blood flow, and inhibit the nervous system.
---